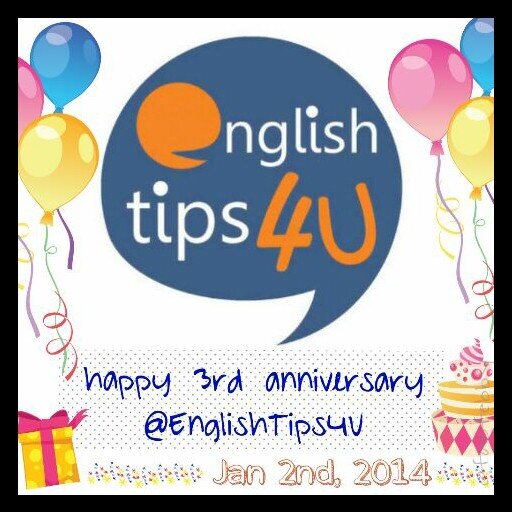 Hello, fellas! Did you know what day is today? It's 2 January, I know.. But what do we celebrate on this day? A true fella would know! :D
Yes, it's @EnglishTips4U's birthday! We are celebrating our 3rd anniversary today & would like to have a special session just for you! :D
Each of our admins from Monday to Sunday would like to share their personal tips on learning English. We hope they could be useful for you.
Don't forget: if you like these tips, feel free to retweet them anytime. Your friends and followers will be grateful you do! :D
The first skill you need to master in English is listening. Having a hard time with it? Check out tips from @waitatiri, our Wednesday admin.
1. Listen to English songs. Try to understand the lyrics just by listening to them first before Googling the lyrics. ~@waitatiri
2. Watch English movies! You may use subtitles to help you, but don't depend on them. Or even better, use no subtitles! ~@waitatiri
3. You can also download free listening practice MP3s available on the internet. Most of them are taken from news programs. ~@waitatiri
4. While listening, it's okay not to know all of the spoken words as long as you get the main idea of what the speaker says. ~@waitatiri
5. Last but not least, make it fun! Learn in a way that you think is the most fun for you. You know yourself best, fellas. :) ~@waitatiri
Do you stutter as you try to speak in English? Well, don't! Here are some tips worth checking by @NenoNeno, our Monday admin. :)
1. One thing for sure when I started learning to speak English was: I was not afraid of making mistakes. I said what I wanted to! ~@NenoNeno
2. Even when I didn't have anyone to talk to, I talked to myself, anytime & anywhere it was possible. And I wasn't embarrassed. ~@NenoNeno
3. At first, aim for fluency rather than accuracy. Use facial expression, body language, & things around you to express yourself. ~@NenoNeno
4. Another important key to successful mastery in speaking: exposure to spoken English. So do listen a lot (music, movies, etc.)! ~@NenoNeno
5. Make sure the exposure is not just 'any' spoken English, but the 'natural' form of English. For example: from native speakers. ~@NenoNeno
6. We learn by imitation. It's true, esp. in speaking. After listening, time to practice what you hear, with no fear. Good luck! ~@NenoNeno
Reading in English. Isn't that suppose to be not that hard? Not all the time tho. Here are the tips by @daedonghae, our Saturday admin. :)
1. Did you know that a lot of philosophical English language readings were also translated from other languages? ~@daedonghae
2. Like Roland Barthes and Michel Foucault have their books originally written in French. ~@daedonghae
3. So sometimes not all philosophical books can be understood straight away. ~@daedonghae
4. No wonder philosophical theory based courses in English language requires band 7 overall in IELTS! ~@daedonghae
5. The tips to read such text? Make sure you skim and scan, note down what you don't understand and what you think of it. ~@daedonghae
Next! Tips on writing skills from our Sunday admin, @fabfebby. Like writing your statuses in English? These tips are for you! :)
1. Want to write something in English but afraid of the mistakes that you'll make? Don't be, fellas. Just write it first. ~@fabfebby
2. When you're done with your writing, try to reread it, so you can find the mistakes, like misspelling or error on the grammar. ~@fabfebby
3. If you hesitate on what you write, Google it. Or ask someone with experience in English but don't be lazy to search it first. ~@fabfebby
4. Use new vocabulary that you've got to make your writing look cooler. That way also makes you easier to memorize them. ~@fabfebby
5. Keep on practicing. Do it often to improve your skill on writing. Just write it in your blog/tumblr, diary, notes or anything. ~@fabfebby
"But how can I master all those skills when I don't have enough vocab?" Check out these tips by @Miss_Qiak, our Tuesday admin. :)
1. Everybody knows that vocabulary building is VERY important. Using limited collection of words and phrases is boring. ~@miss_qiak
2. There are so many new words and phrases to learn and try out. Start from your own interest. I started from romance novels. ~@miss_qiak
3. New words and phrases can be found everywhere, from books, magz, songs, movies, the Internet, even by eavesdropping others. ~@miss_qiak
4. DON'T memorize new words and phrases! Search out what they mean and imagine how you'd use them in practice. ~@miss_qiak
5. If you can't recall words and phrases, explain them in your own words. And once you recall them, you'd remember them better. ~@miss_qiak
Frustrated with grammar? No worries. Check the tips by @Patipatigulipat, our Friday admin. Pst: it doesn't include memorizing any formulas!
1. Read a lot: fiction, nonfiction, biography, history, magazines, newspapers, online articles. Anything. ~@Patipatigulipat
2. Force yourself to write full words and sentences every time you tweet or comment on something. ~@Patipatigulipat
3. Proofread anything that you write, including your daily journal or short stories. It will help you to be more careful. ~@Patipatigulipat
4. Use Google whenever you are not sure about your writing. ~@Patipatigulipat
5. Remember a quote by Dr. Seuss: "The more you read, the more things you will know. The more that you learn, the more places you will go."
Last but not least, if you're brushing up your pronunciation, these tips from @me_firdauz, our Thursday admin, should not be missed! :)
1. Pronunciation is an essential part in speaking. Correct pronunciation = easier for people to understand your speaking. ~@me_firdauz
2. Then how to practice your pronunciation? The key is listen and repeat. ~@me_firdauz
3. Listen to a listening material and make sure you have the tape-script as your reference. ~@me_firdauz
4. Remember, English word spellings are different from their pronunciation. ~@me_firdauz
5. This is important! –> Practice every word you hear from the recording, and do it as frequently as possible. ~@me_firdauz
6. Never feel bored to practice, since it takes process, and practice makes perfect! ~@me_firdauz
So how were the tips, fellas?
Hope you will always find our tweets helpful and valuable. Have any suggestion? Feel free to mention us. :)
If you want to know more about the people behind the tweets you read on this account, feel free to visit our page https://englishtips4u.com/about-us/ :)
And.. That's a wrap! Once again, Happy 3rd Anniversary, @EnglishTips4U!
See you all fellas again tomorrow. Good night! :)
Administrated by @me_firdauz
Compiled by @NenoNeno
Written by @NenoNeno @me_firdauz  @Miss_Qiak @Patipatigulipat @daedonghae @waitatiri @fabfebby
For January 2, 2014